Media Panic to Control Exposure of Agenda 21 Takeover
Infowars
by Aaron Dykes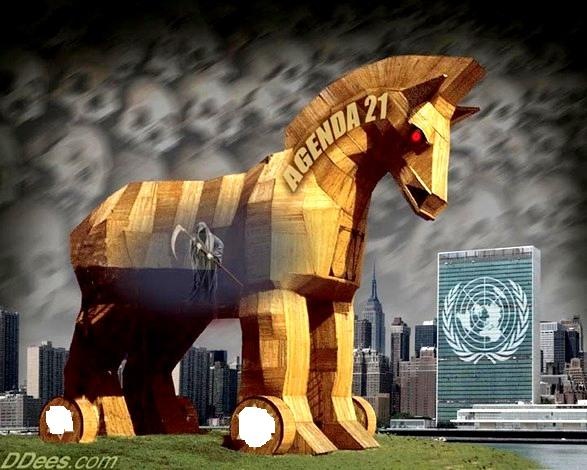 Opponents of Agenda 21′s local implementation in the United States have begun mounting a notable resistance. At state capitals and city councils, activists are showing up to educate and lobby their elected representatives about the implications of this United Nations' plan for sovereignty, property rights and the future development of the country.

It has become such a widespread phenomenon that media outlets everywhere are spinning into damage control in effort to ridicule the anti-Agenda 21 movement, hoping that it will go away before the general population understands the issue.
But their efforts are fruitless. Coverage across the country begrudgingly notes that groups are opposing local "sustainability" initiatives and fighting back against plans to concentrate growth into dense urban centers under emerging "mega-regions."

Now, a case in Georgia has triggered an all-out media frenzy, after a local group convinced the state's Senate Majority Leader, Chip Rogers (R – Woodstock), to hold an information session on Agenda 21
attended by several other GOP senators and representatives. Conspicuously negative coverage is being used to pressure these politicians to avoid supposedly fringe elements in their constituency.

The progressive, sustainability group Better Georgia released video of the meeting, and blasted the 'extremist' views presented, that included comparing Obama's socialist vision with the plans of Joseph Stalin and Chairman Mao, which resulted in famine and genocide.

Worse, according to the portrayals, is the involvement of one Field Searcy, who helped present the slideshow. Searcy had been booted from his Tea Party group for recommending people visit Infowars.com and tune into Alex Jones. The tea party group formally objected to Searcy's activities in "actively promoting issues and beliefs derived from conspiracy theorist Alex Jones." As such, his presence at the clandestine Agenda 21 meeting was presented as particularly damning.

11 Alive, the NBC affiliate in Atlanta, covered the meeting, mocking the conspiracy and "global control" theorists attempting to expose Agenda 21, telling viewers that the groups and politicians involved think people who believe in "environmentalism and sustainability" are part of the problem.



Meanwhile, the Atlanta Journal-Constitution published multiple articles on the Agenda 21 presentation, including an op-ed titled, "Agenda 21: The lunacy infiltrating state leaders." Regional papers promised that state Senator Chip Rogers would face "blowback" for hosting the information session, and otherwise insinuated that Rogers had been stung by the "secret" video that had "surfaced".

Read More
13ZHwQUcMDoihfwLeQQkmcGnUaLrK8XXRL
If you enjoy reading the information we bring you, please consider donating to WTF News via Bitcoin. Any donations are appreciated and go directly to expanding our capabilities.