Top 10 Events that Prove Obama Planned Gun Control Long Before Newtown Tragedy
Infowars
Aaron Dykes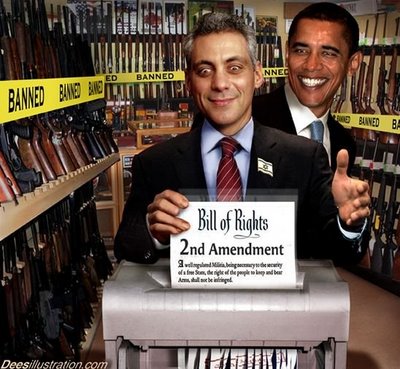 It should be painfully obvious that the gun grabbers — including the likes of President Obama, Senator Dianne Feinstein and Vice President Joe Biden, among many others — are not responding to the Newtown, Connecticut school shooting alone, but are using that terrible tragedy to implement a gun control agenda they have long ago planned, waiting for the right timing to achieve their aims.
Rahm Emanuel, Obama's first Chief of Staff, famously said "You never want to a serious crisis go to waste. What I mean by that, is it's an opportunity to do things you think you could not do before."
It is a simplification of the problem-reaction-solution formula for control that was formally expressed in the Hegelian Dialectic well over a century ago. It has not only been the unofficial motto of the Obama Administration, but of all the tyrants operating from the Oval Office and around the world for some time. It has been clear for sometime that the Obama Administration planned all along to achieve significant gun control, but planned to do so "under the radar" and in his second, (nearly) unaccountable term, where the President does not face re-election or the worry of alienating voters, when he can essentially act as a dictator without even the need for congressional approval.
PREAMBLE: THE CASES WHERE GUNS SAVED LIVES THAT YOU NEVER HEARD ABOUT IN THE MEDIA OR FROM THE PRESIDENT
But just as telling as Obama & Co.'s significant actions to undermine the Second Amendment by exploiting tragedy are the are the countless incidents where guns were used to stop crimes altogether, or to stop mass shootings before they got worse, but were never driven into the national spotlight. Generally speaking, these incidents were NOT exploited in the corporate news media despite the fact that they were both dramatic and newsworthy.
Just a handful that come to mind include the 65-year-old woman who stopped 5 armed robbers in a jewelry store, the 22-year-old concealed carry permit holder who pulled his weapon on a mall shooter earlier this month without shooting, stopping the killer's murder rampage and causing him to commit suicide, the 71-year-old concealed carry holder who fired on two armed robbers at an online gaming cafe in Florida and sent them quickly fleeing the scene for their lives.
A CATO Institute study released earlier this year found that "tens of thousands of crimes are prevented each year by ordinary citizens with guns," with this number just based on a round up of local news reports of incidents. A multitude of other crimes are likely deterred each year just by display or declaration of arms by potential or would-be victims and/or bystanders, though most of these incidents are never officially reported.
In countless cases across the country, home invaders are shot or stopped by gun owners, including numerous children who've used "assault rifles" to stop criminals in their tracks. Robberies at small businesses are routinely stopped by armed employees, ">owners or even customers, but the cases rarely make big news.
The NRA has estimated that firearms are implemented for protection at least two million times a year, stating that "the presence of a firearm, without a shot being fired, prevents crime in many instances." Gun Owners of America estimate that number at 2.5 million times per year, while the generally anti-gun Clinton Justice Department, who presided over the first Assault Weapons Ban, admitted that at least 1.5 million crimes are stopped per year due to armed citizens.
Without argument, guns are controversial tools which have deadly potential when used by humans with that intent. However, self-defense, protection of property and staving off tyrannical government is the very point of bearing arms, guaranteed under the 2nd Amendment. But those who wish to control populations by restricting access to guns (and finalizing a change in the balance of power between illegitimate government and its people) would have you believe that banning firearms will prevent crime and banish evil. Unfortunately, history shows that this is beyond dangerously naive, while academics in the study of Democide have made clear that despotic governments– in the arena with helpless, disarmed populations– are the greatest cause of unnatural death, killing more than 260 million people in the 20th Century alone.
————
Here's a round-up of the Top Ten covert actions taken by the Obama Administration to pursue its gun control agenda during his first term in office, in approximate chronological order to demonstrate a timeline, all building up to the crescendo we are now witnessing:
1. Rahm Emanuel tells Attorney General Eric Holder to STFU on gun control in January 2009, at the start of Obama's first term.
Very early on in Obama's first term, Attorney General Eric Holder publicly announced that the administration would pursue a reinstatement of the assault weapons ban passed during the Clinton Administration, but which expired in 2004. ABC News' Jake Tapper reported that in February 2009, then-White House Chief of Staff Rahm Emanuel became furious at Holder's public statements, which had riled up the pro-gun lobby. For example, Sen. Max Baucus issued a press release in response, entitled: 'Senators to Attorney General: Stay Away from Our Guns.' According to Tapper:
"Emanuel was furious. He slammed his desk and cursed the attorney general. Holder was only repeating a position Obama had expressed during the campaign, but that was before the White House needed the backing of pro-gun Democrats from red states for their domestic agenda. The chief of staff sent word to Justice that Holder needed to 'shut the fuck up' on guns…"
Clearly, the plan was to remain 'under the radar' on gun legislation.
2. Covert Fast and Furious Program Begins to Demonize Assault Weapons, Second Amendment
Revelations about Fast and Furious have become part of an ongoing saga all of its own, but it is abundantly clear that the ATF, the Department of Justice and other agencies willingly "walked" thousands of guns into the hands of Mexican drug cartels early on in the Obama Administration in order to later blame the horrendous effects of the illegal flow of weapons south of the border, and build support for gun restrictions.
Investigations in the House have made clear that Attorney General Eric Holder has been less than forthcoming about what and when he knew about the program. During testimony on May 3, 2011, Holder told the Judiciary Committee he had "probably heard about Fast and Furious for the first time over the last few weeks." CBS News, among others, have produced documents proving Holder was briefed as early as July 2010. Rep. Issa threatened to find Holder in contempt, though no meaningful action has yet taken place.
3. New ATF regulations demand southern border states succumb to greater reporting requirements; purchases of more than two semi-auto weapons more heavily regulated
On January 6, 2011, Reuters reported that the White House was lamenting over delays in new regulations for border states (curiously two days before the tragic Tuscon shooting). Reuters wrote: "A planned Obama administration clampdown on Mexico border gun dealers which would require them to report multiple assault rifle sales has been delayed by the White House amid stiff opposition from the powerful gun lobby."
By July of 2011, those new restrictions went into place via policies and regulations at the Bureau of Alcohol, Tobacco and Firearms (ATF). At least one gun store in Albuquerque tried to challenge the new federal requirement that more than 8,000 dealers in Texas, Arizona, California, and New Mexico must report on the sale of multiple semi-automatic weapons.
Undoubtedly, the pretext was based upon the government-staged Fast and Furious flow of weapons southbound, but aided by the hysteria over the mass shootings in Tuscon, located in one of the affected border states.
4. Exploiting the Tragic Shooting by Jared Lee Loughner and Attempted Assassination of Rep. Gabrielle Giffords
The tragic January 8, 2011 shooting in Tuscon, Arizona undoubtedly shocked the nation. Jared Lee Loughner was accused of shooting nineteen people including Congresswoman Gabrielle Giffords, while killing six. While many questions were raised about the alleged killer Loughner, a possible second shooter (or handler) and other unusual aspects of the case, the media and the White House undoubtedly exploited the case immediately to support, if not outright push for, gun control legislation. The day after the shooting, USA Today published an article entitled, 'Debate on gun control heats up after Giffords shooting' stating in part: "Gun laws have to be examined," Rep. Raul Grijalva, D-Ariz., said Sunday on NBC's Meet the Press. He said that "doesn't mean denying guns" but reviewing how they become accessible.
The likes of the Southern Poverty Law Center and Pima County Sheriff Clarence Dupnik blamed the rhetoric of the 'radical' right-wing, while the political establishment overtly called for 'bipartisanship' and moves to tone down heated political speech. The post-shooting rhetoric became so shrill that many pundits demonized the mere act of questioning government in the spirit of pulling together in the wake of tragedy, somehow placing collective blame on the entire country for the horrendous actions of one individual.
Gun control advocates demanded that Obama use the tragedy to push for new firearms legislation, but the calculating Obama Administration knew it was not the right time for overt moves. President Obama did use a memorial service as a stump speech for re-election and a handy bounce in the polls, but resisted the urge to advocate changes on the 2nd Amendment.
5. Obama Tells the Brady Center He'll Attack 2nd Amendment "Under the Radar"
During a March 30, 2011 meeting between Jim and Sarah Brady of the Brady Center and White House Press Secretary Jay Carney, President Obama reportedly told the Brady's "I just want you to know that we are working on it (gun control)….We have to go through a few processes, but under the radar."
This was interpreted at the time to reflect the use of Fast and Furious to steer the gun control debate, but clearly encompasses the coordinated, deliberate exploitation of numerous shooting tragedies, as we have all seen.
1L8xeSffU9KejMU7jUWzoHjtCV3ZKAbPxU
If you enjoy reading the information we bring you, please consider donating to WTF News via Bitcoin. Any donations are appreciated and go directly to expanding our capabilities.